Intro to "Echelon on Palm"
Downtown Sarasota Luxury Condo Keep Selling Briskly
Posted July 12, 2016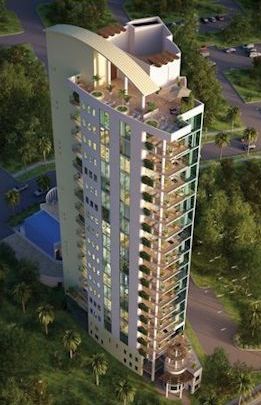 The resurgence of the Sarasota luxury housing market continues but this time the announcement is that nine of the seventeen units planned for the new "Echelon on Palm" luxury condominium tower at the previous site of the La Palm Royale bed and breakfast at 624 South Palm Avenue have already been reserved just one month after this very upscale project came to market. Located on chic Palm Avenue among fine restaurants, casual eateries and art galleries, this striking glass building, designed by Alcides Santiesteban of Santiesteban & Associates of Tampa, Florida is being built by the Ronto Group out of Naples, Florida.
Echelon on Palm has 15 full-floor residences of 4,155 square feet each; one half-floor residence of 3,079 square feet and a single 4,381-square-foot, and a single two-level town home with walk-up access from Gulfstream Avenue.
Each Echelon on Palm residence has gorgeous views of both Sarasota Bay and the Sarasota city skyline, a private elevator entry and garage parking. Shared amenities will include summer kitchens, a fitness center, a yoga terrace, a residents' club room, a pool area with spa and a large outdoor rooftop terrace for socializing with neighbors and invited guests.
Echelon on Palm is the first Downtown Sarasota Florida property developed by the Ronto Group, but it's architect, Santiesteban, is well-known in the Sarasota area for his designs of the "Aria" luxury condos on Longboat Key, and the "Ritz Carlton Tower Residences" in Downtown Sarasota. Mr. Santiesteban said at the opening of the Echelon on Palm sales office, "Echelon on Palm will enhance the Sarasota downtown skyline with its unique use of soaring glass panels and curvilinear forms." He added, "These luxurious residences provide the type of flexible open floor plans one typically sees only in traditional single-family homes. Here, we included expansive glass walls, over-sized terraces with unsurpassed views of downtown and the Sarasota waterfront and indoor/outdoor living spaces in our design as these are so much in demand today by luxury residence buyers."
If you are pondering whether this is the right time to invest in a Sarasota or Manatee County luxury home or condo, I can assure you that even with the current high level of demand, there are still wonderful homes or condos in all price ranges available on the Sarasota real estate market and that one of them meets your needs and desires just about perfectly.
I'd be delighted to introduce you to the many attractive Sarasota homes and condos throughout mainland Sarasota and out on our beautiful barrier islands, Longboat, Lido, Bird, Siesta and Casey Key.