Bradenton "Hydrants for Hounds" Event a Big Success
Posted October 11, 2016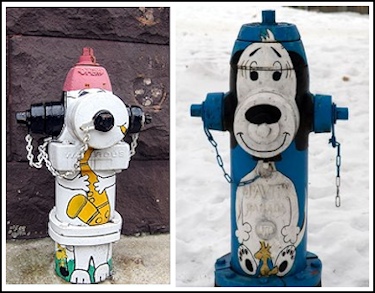 Nate's Honor Animal Rescue in nearby Bradenton Florida received some serious sprucing up with the help of Ringling College of Art & Design (RCAD) incoming freshmen at its 1st annual "Hydrants for Hounds" event held recently at this popular pet rescue and adoption facility located at 951 Lorraine Road in Bradenton.
Nate's Events Chairwoman Jessica Ortiz got the idea for the event when Dari Oglesby, Nate's CEO sent her a Pinterest pin of a fire hydrant painted like a dog. She contacted the Manatee County administration that then donated 4 retired hydrants for the event. She then asked Ringling College of Art & Design if they get 4 freshmen to come help by decoratively painting the 4 hydrants.
As part of their Ringling College orientation, incoming freshmen are required to participate in one day of community service at a charity of their choice. What Ortiz got when she asked was not 4, but 35 talented young artists. The Ringling students started early painting rooms, new signs and, of course, those 4 hydrants while guests wandered through the facility greeting dogs and learning more about the good works done by Nate's. Guests were greeted at the entrance by 9 adorable 9-week-old hound-mix puppies. While the puppies got lots of oohs and aahs, there were 13 cottages, each with 6 dogs looking for homes which a number of them happily found.
Nate's Honor Animal Rescue began when 4 women asked Nate Benderson if they could hold adoption events on one of his properties' parking lots. Benderson, whose love of animals is well-documented, went much further, providing the space for Nate's Adoption Center in Cooper Creek, and later the 8 acres on which Nate's Ranch sits today. Attesting to the generosity of Sarasota and Bradenton area people, last year Nate's adopted out 1,500 animals, and has already passed the 1,300 mark already this year. "We'd love to adopt out 2,000 animals this year," Ortiz said.
The next event to aid Nate's Honor Animal Rescue will be the "Gone to the Dogs" adoption and costume contest sponsored by David Weekly Homes on October 27th. More information is available at nateshonoranimalrescue.org/events.
If living in an area where this kind of generosity and love of animals is an appealing idea for you, as a well-respected Sarasota Florida Realtor, I would be delighted to help you find your new home in the warm and sunny Sarasota Florida area. Call me at 941.228.9682 today to learn more about all the other attractive facets of living on the Florida Sun Coast as the sarasota Florida area is called.