Burns Court Villas
A n Urban Oasis in Downtown Sarasota
On A Smartphone ?
Click on Photo to Enlarge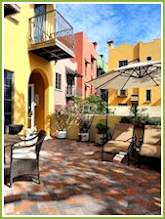 One of the newer additions to the Downtown Sarasota luxury condo market, Burns Court Villas is located between Pineapple Avenue and Palm Avenue are just steps away from the well-known Burns Court Cinemas.
While most of the Downtown Sarasota luxury condos are mid- to high-rises, this Mediterranean styled development is a welcome change. These 23 Mediterranean style villas with 3 bedroom, 2.5 bath condos with private elevators, 1 and 2 car garages are perfectly suited for those who want to be well within a comfortable walk to all of Downtown Sarasota has to offer but yet far enough away to be a bit more peaceful and serene. From the Burns Court Villas, you'll have countless restaurants, foreign films at Burns Court Cinema, the art galleries on Palm Avenue, the Marie Selby Botanical Garden, Marina Jacks and the next-door Island Park on the bay front.
Sun worshippers and Beach lovers will appreciate that this luxury condo community is an easy 2.5 mile bike or automobile drive to Lido Beach and the world-famous St. Armands Shopping Circle is even closer. For purists, the soft, white crystalline quartz sands of Siesta Key beach are only 10 minutes away.
When you come to Sarasota Florida, ask me to show you the Burns Court condos. I'd also be happy to show you these and other luxury downtown Sarasota Florida living spaces at your convenience.