The Plaza at Five Points
Downtown Sarasota Florida Luxury Real Estate
On A Smartphone ?
Click on Photo to Enlarge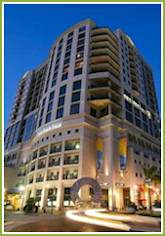 Welcome to The Plaza at Five Points. Located in the heart of Downtown Sarasota at the confluence of Main Street, Central & Pineapple Avenues, The first 9 floors are commercial properties, and residential floors are situated between floors 10 and 16. There are 8 residences/floor at about 1,600 sq.ft. with 2 bedrooms, 2 bathrooms. There are also 4 extravagant penthouses with over 3,000 sq.ft., 3 bedrooms and 3 stylish bathrooms.
Completed in early 2006, the lifestyle afforded by the design of The Plaza is unique in Sarasota. Residents at The Plaza will enjoy the beautiful city and bay views from the amenity level with rooftop pool, Jacuzzi and outdoor patio. And, residents will enjoy the benefit of the commercial space within the building where they may set up their own corporate headquarters and conduct their personal banking.
This elegant-living property is just steps away from fine restaurants, boating facilities, a waterfront park, the Sarasota Opera, the Marie Selby Botanical Gardens, and the Florida Studio Theatre plus all the shops and art galleries of Main Street and Palm Avenue. Mote Marine Aquarium, the Van Wezel Performing Arts Center, the Asolo Theatre and the Ringling School of Art and Design are also close by.
The smaller 2/2 units here sell in the range from just $1.0 to $1.5 million and as high as $2.5 million for the largest most elegant penthouse units.
If you'd like to know more about The Plaza at Five Points or downtown Sarasota real estate in general, or its cultural or sports amenities, I'd be more than happy to introduce you to Downtown Sarasota living. I know you'll find it both interesting and exhilarating.