Why Wait for the Auteur Sarasota
Posted March 10, 2019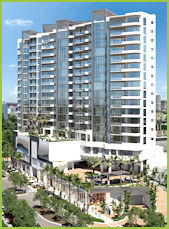 Located at 1000 Boulevard of the Arts, a brand new $85 million luxury mixed-use project is being built just east of the Hyatt Regency hotel Thew tower will contain 55 elegant condominium homes as well as a restaurant and other retail space on the lower level. The units will have a price range of $1.75 million to $3.5 million, according to the site plan application. Construction will begin in 2019 and is expected to be completed in 2022.
Auteur Sarasota's developer is BOTA Development Holdings LLC which includes the Ascentia Development Group, a Sarasota-based company. Major Sarasota real estate developers, these people have successfully developed the nearby Beau Ciel condominiums and the en Provence and Aria condos out on Longboat Key.
The 18-story Auteur Sarasota tower of condominium homes will provide the discerning buyer with elegant downtown Sarasota living and waterfront living at a superb location with breathtaking views.
If you love the vibrancy of living downtown and also enjoy relaxed evenings watching the sun set over the Gulf of Mexico sunsets, Auteur Sarasota may be your perfect place to live when it finally gets built. but if this is the kind of lifestyle you seek, contact me, there are many equally grand condos ready and waiting for you right now.