Downtown Sarasota Florida Condos
On A Smartphone ?
Click on Photo to Enlarge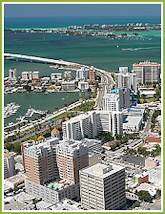 There is a Sarasota Condo with everything you want. Many of the condos in Sarasota overlook the placid waters of Sarasota Bay. Downtown is full of excitement with brand new luxury bayfront condos, completely renovated and updated units, and even some in uniquely walkable neighborhoods.
Sarasota is a vibrant place to call home and its condominium real estate offerings are many and varied. There are condos priced in the mid $100's and elegant penthouse condos priced well over the $5 million price point and everything in between.
Art museums, live theater, the Sarasota Opera, the Sarasota Ballet, the renowned Sarasota Orchestra, and an eclectic collection of galleries, shops, restaurants and clubs line tree-shaded boulevards. Young professionals, visitors and seniors are all welcome. You are invited to sample the magic of this sophisticated, cosmopolitan Southwestern Florida city where the schools, health care facilities and other amenities are among the best in the country.
All of this is what consistently ranks Sarasota Florida among "The 15 Most Livable Communities in the United States" according to Money magazine.
You may also want to review my Waterfront Homes section as some of those condominium properties are located right in Downtown Sarasota.
Come experience the paradise that is Downtown Sarasota Florida and the wide variety of Sarasota condos and living spaces available from relatively modest units to the most elegant and exclusive penthouse homes with spectacular views. Find your perfect new Sarasota condo among those in Sarasota Florida.