Bradenton, Florida A Great Place to Live
Posted December 20, 2017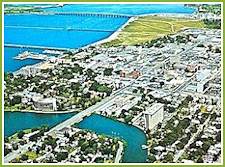 Bradenton is the largest city in Manatee County with approximately 56,000 residents. Located just to the north of Sarasota, Bradenton offers its residents and visitors a casual, relaxing lifestyle that everyone finds appealing. Bradenton is a fabulous place for young families, professionals, baby boomers, and retirees. Take leisurely walks on the beach, enjoy every type of boating, fishing and sailing, including scuba diving and, of course, play golf on numerous public and private golf courses. The city of Bradenton is home to some of the nicest golf courses in Florida.
But Bradenton is also so much more than that.
There is a constant flow of family-fun activity for residents and visitors alike. This constant level of attractions, events and festivals means that Bradenton should be on the "to do" list of every visitor to Southwestern Florida and certainly on the list of all residents of Sarasota and Manatee Counties. Here, for example, are just a few of the family-focused venues based in Bradenton that I think are worth visiting.
The Village of the Arts in downtown Bradenton is a community of over 35 artists living and working together in Florida's largest art community. Art walks are scheduled Friday and Saturday on the first weekend of each month when streets fill with art lovers looking for affordable fine art, jewelry, ceramics, clothing and furniture. Bookshops, collectibles shops, gourmet cafes and more offer special events and art-related lectures open to the public.
The Cortez Historic Fishing Village is the only remaining fishing village in Florida, this historic working waterfront fishing village was built over 110 years ago and invites visitors to stroll the historic village and fish houses. Just west of Bradenton, this historic working waterfront is near area beaches, fishing piers and shops. It's also the place to go for jet skiing, kayaking and parasailing. And don't miss the Florida Maritime Museum, housed in the restored historic 1912 schoolhouse, itself located on the park-like grounds of the Cortez Nature Preserve. You will also find here the Banks Shell collection, ship models, historic boats and an enthralling butterfly garden.
De Soto National Memorial, 5 miles west of Bradenton, Florida, commemorates the 1539 landing of Hernando de Soto and the first extensive organized exploration by Europeans of what is now the southern United States. Exhibits at the visitor center include historic armor, weapons and period artifacts. A theater displays the movie Hernando de Soto in America, about the DeSoto Expedition and the area's Native American population. A bookstore is also available. Visitors can attend Camp Uzita, a living history camp that runs from December through April. The camp season ends with a re-enactment of DeSoto's landing on the beaches of Tampa Bay.
The Palma Sola Botanical Park is a botanical garden located at 9800 17th Avenue N.W. in Bradenton. The park provides a unique opportunity to enjoy educational programs, passive recreation and public events in the midst of 10 acres of natural beauty. Because the park, in the Old Palma Sola section of northwest Bradenton has an unusually warm microclimate on a protected parcel of land, it is notably frost-free, it showcases collections of rare palms, fruits, and flowering trees.
If you've been "on the fence" about Bradenton, Florida as the place to find your dream home, you need to get serious. Whether you are looking for a home for your own immediate use or to generate some income until you're ready to retire, you would be well-advised to visit the vibrant city of Bradenton, Florida real soon. It's true that home prices have started moving up but they haven't gotten anywhere near where they were just 5 years ago. In fact, in some Bradenton Florida real estate communities, prices are pretty stable right now as people worry about the economy and the politics of an election year.
Let me help you make your dream of a "Little Piece of Paradise" in Bradenton, or out on Anna Maria Island come true now while prices are still at or very close to historically low levels.