The Longboat Key Lifestyle
Live in Your Own Piece of Paradise
Posted Nov 12, 2018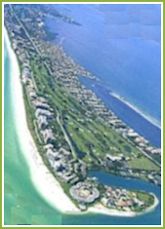 Longboat Key spans two counties; the southern end is in Sarasota County while the northern end extends into Manatee County. Just south of Longboat Key lies St. Armands Key, with its world-famous and casual shopping district and then Lido Key. To the north, Longboat Key reaches to Anna Maria Island off the coast of Bradenton, Florida.
Known for its tasteful luxury, manicured surroundings, an excellent private golf course, and devoid of garish billboards and neon signs, Longboat Key is much more than that.
Longboat Key is one of quietest barrier islands on Florida's Gulf Coast. a single main street, Gulf of Mexico Drive, runs the entire length of the island with short lanes and cul de sacs on each side. Those side streets are lined with everything from a few remaining old beachfront cottages to maintenance free villas and enormous developments of high-rise luxury condos. There are also grand waterfront mansions with gorgeous views of either Sarasota Bay for those facing east or the Gulf of Mexico for those facing west.
With an pleasant average year-round temperature of 73 degrees, Longboat Key is the perfect place for all sorts of relaxing activities from golfing to biking, tennis, fishing and sailing to leisurely strolls through boutique shops and elegant dining in 5-star restaurants.
Golfers and tennis enthusiasts especially like Longboat Key, it being the only barrier island in the Sarasota Florida area with a 45-hole golf course at the private Longboat Key Club. The Longboat Key Club Harbourside course is a 27-hole layout of three 9-hole courses designed by golf architect Willard Byrd. Bordering Sarasota Bay, this award-winning course plays through stands of oak, sabal palm, fiddle-leaf palm, Washingtonian palm, fig, palmetto and southern pine. Almost constant wind puts a premium on shot-making and course strategy, while the more gentle breezes off the Gulf of Mexico keep Harbourside a refreshing challenge year round. The 6,792-yard Islandside golf course, set in a protected bird sanctuary, borders the Gulf of Mexico and features water hazards on all 18 holes making accuracy off the tee essential. Over 5,000 palm trees and oleander line the course's fairways making Islandside one of Florida's most spectacular golf courses.
Those who own yachts or fixed keel sailboats will appreciate the 291 protected deep-water slips at the Longboat Key Club Moorings Marina. Those who appreciate the arts will enjoy not only the Longboat Key Center for the Arts, with its permanent collection and changing exhibits of invitational shows, art classes and workshops, and cultural events year round, but also the close proximity across a short bridge to Lido Key and then across the Ringling Causeway to all the arts and cultural venues of downtown Sarasota.
About 7,200 people, retirees and young families enjoy the Longboat Key lifestyle in about 9,000 housing units of all kinds year-round. enjoying what some call this "Sliver of Paradise". Others spend just a few months here but love it just as much and look forward to the day when they retire and become full-time residents
If you are considering purchasing a Sarasota Florida luxury home or condo, it would be a mistake not to let me introduce you to the "Longboat Key Lifestyle" before you make a decision. I can assure you that you won't be disappointed.