Another Luxry Condo Tower Coming to Sarasota
Intrducing "The Mark"
Posted Nov 06,2017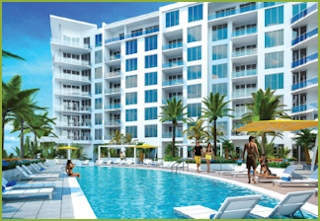 There's another exciting, if large, luxury condominium development in downtown Sarasota. The Mark Sarasota is be a mixed-use tower with 157 residences for those seeking to live, work and play in the center of downtown Sarasota Florida. To be located just South of Main Street at the corner of Pineapple Ave. and State Street, the white modernist building, designed by Hoyt Architects, opening in 2018, will have 35,000 square feet of retail space for upscale dining and shopping on the ground floor and another 11,000 square feet of high-end office space that will mask three levels of parking on the building's interior above the ground floor.
The residential portion of the building will begin at fifth-floor with an amenity level where there will be an "outdoor living room," with a heated pool, private cabanas, conversation areas and a fire pit. The top floors of the 12-story structure will have 157 condominiums in innovative floorplans ranging from 1,377 to 2,940 square feet with prices starting at about $700,000 and ranging up to about $2 million. Most of the units will be priced below $1 million. These innovative condo residences feature open floorplans and terraces designed to provide the indoor-outdoor Florida lifestyle and panoramic city views. Other amenities will include soaring 10 and 11 foot ceilings and sliding glass doors opening onto expansive terraces with glass railings, a catering kitchen, a residents' club room, a state-of-the-art fitness center and secure parking garage.
The Mark Sarasota will offer many different floor plans in various sizes and floorplans starting at $700,000 for Plaza Residences with 1 to 3 bedrooms and 1.5 to 3.5 bathrooms in 1,439 to 2,346 sq. ft. Other units will offer 2 to 3 bedrooms and 2.5 to 3.5 baths ranging from 1,571 to 2,346 sq. ft. 13 Penthouse Residences with 2 to 3 bedrooms and 2.5 to 3.5 baths ranging from 2,139 to 2,940 sq. ft. will top off the building.
Bob Vail, president of The Kolter Group Urban Division said, "The Mark will be marketed to buyers who are moving off the keys or in from the eastern subdivisions who want the energy and world-class recreational and cultural amenities of downtown Sarasota. People want to stay much more active later in life. And they don't want to do that out in the suburbs where they have to get in your car to get to all that's available only in downtown Sarasota. We want to be able to drop people into nice, modern residences with very current design and get them up in the air with some views and an awareness that they are in an urban setting, and they can walk to restaurants and shopping. If we can keep all that in a price range that's where the retiree and pre-retiree wants to be, there are a lot of people in that market," Vail added.