The Sarasota Polo Club Another Outstanding Facet of the Sarasota Lifestyle
Posted Oct 22, 2017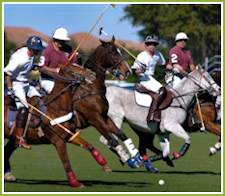 One of the many things that make Sarasota such an attractive place to live is the abundance of things to see and do. One of the more unique aspects of Lakewood Ranch is the presence of the Sarasota Polo Club.
While polo is more commonly associated with Great Britain and South America, the sport also enjoys a strong following in the United States. From its beginnings in a New York City riding academy in 1876 to the 2010 Open Championship held here in Florida, the popularity of the sport in the United States continues to grow. And, the Sarasota Polo Club is an outstanding example of what a first class polo club can be. With 130 acres and 9 meticulously groomed and irrigated polo fields, two stick and ball fields and a regulation size arena, the Sarasota Polo Club is one of the largest polo clubs in the United States.
Sarasota Polo Club's facilities also include a member's clubhouse, a full-size outdoor arena, a covered pavilion, a three-quarters of a mile exercise track, veterinary clinic and three 24-stall barns. During the polo season up to 600 horses are housed on the Polo Club grounds or in the 35 private ranches surrounding the polo fields.
New players are always welcome to join the Sarasota Polo Club which offers 4, 8 and 10 goal leagues. Practice games are offered three days a week and an arena polo program is also available. The club hosts U. S. Polo Association (USPA) tournaments from 4 to 12 goal tournaments during its season.
During the polo season, attending a polo match can be a fun-filled afternoon for the whole family. The kids will enjoy pony and Clydesdale wagon rides, tailgate parties, half-time entertainment and even a round of divot stomping.
Polo matches at the Club are open to the public every Sunday afternoon during the season from mid-December to mid-April. General admission rates are reasonable with children 12 and under admitted free. Well behaved dogs on leash are allowed on the grounds.
So, once you''ve had your fill of sunbathing on some of the finest beaches in America this summer and fall, consider joining, learning and then participating in a different and truly exciting sport. Bring your family, your guests and a picnic basket to the Sarasota Polo Club when the 2015 - 16 season opens.
There's a good reason they call polo "the fastest game on four feet." The excitement is real and the Sarasota Polo Club is one of the "best of the best" places to witness world-class polo play.
The Sarasota Polo Club is just one of the many things that bring people to Sarasota Florida where, after even just a single visit, many decide to buy a Sarasota home or condo and become part of this vibrant community.