Why People Choose Sarasota Florida
Posted Sep 10, 2018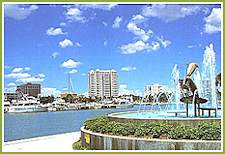 For starters, Sarasota is known as Florida's Cultural Coast, home to the renowned Florida West Coast Symphony, the Sarasota Ballet, and the Asolo Theater for the Performing Arts as well as many more theater venues and art galleries. Main Street, Sarasota Florida offers dozens of shops, restaurants and nightclubs. Throughout the year, there are many special events including live music, art festivals, various shows and parades.
For sun and beach lovers, there are 35 miles of beaches including world-famous Siesta Key beach with the softest, whitest sand in the world. And nowhere in the world will you find more gorgeous sunsets than on Florida's West Coast jewel of Sarasota.
For golfers, metro Sarasota Florida including Manatee and Sarasota County offers over 80 golf courses ranging from public courses to the most challenging public and private courses. There are golf courses to challenge every level of player. Many of the golf courses are surrounded by golf course communities with a wide choice of homes, villas, and condominiums to choose from.
Boaters, sailing enthusiasts, scuba divers and fishermen will love the Sarasota offerings of every conceivable water sport, numerous deep water marinas and yacht clubs.
Sarasota also offers the widest possible variety of residential properties from downtown high-rise condos and penthouses to golf course communities and waterfront homes in every price range and to meet every imaginable desire you may have. Our island communities of Siesta key, Lido Key, Longboat key and Casey Key each offer their own unique lifestyles. St. Armands Circle, with its upscale shops and boutiques, offers some of the most elegant, as well casual, shopping and dining in Florida.
While some may think only of Orlando when they think of Florida, others have learned the advantages of living in and around Sarasota, including gt-he new community of Lakewood Ranch, attracted by less congestion, more leisurely lifestyle and its diverse arts, cultural, dining and sports amenities.
And, when relatives visit, they'd can visit Disney World and other Orlando attractions with less than a 2-hour drive from Sarasota. And, the Tampa Bay area including the fabulous Florida Aquarium is only one-hour away.