Prestancia
Sarasota Country Club Homes
On a Smartphone?
Click on Photo to Enlarge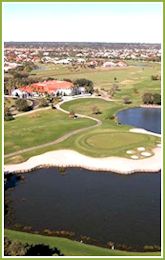 Within the enormous Palmer Ranch residential development, Prestancia is a delightful, gated golf course community of single-family homes, patio homes, town homes, villas and condo. Surrounding Prestancia's two golf courses, you'll find luxurious homes priced from the $700's to well over $1 million clustered into unique and private, gated, yet inviting neighborhoods. But, there are also condos, villas and town homes priced in the mid $300's to the $400's.
Prestancia has two private 18-hole championship golf courses including the prestigious Tournament Players Club owned and operated by the PGA tour. The Stadium Course and the Club Course extend over 565 acres of lush landscape balancing spectacular flora and fauna views with excellent playing conditions on the fairways.
Prestancia is the embodiment of the Sarasota country club and resort-style life. The 35,000-sq.ft. clubhouse is the center of this 565 acre golf community. The country club offers a wide range of social amenities including a a lounge and a spacious dining room. The club also provides locker rooms and a fully-equipped pro shop.
For members of your family who prefer the beach, Prestancia's homes and condos are but a 10 minute drive to the soft, white quartz sands on Siesta Key three beaches.
If you are considering moving to sunny Sarasota Florida and you are seeking a gated golf course community, it is difficult to beat Prestancia. There's something for everyone in Palmer Ranch and the Prestancia golf course community.