Waterlefe Golf and River Club
Fine Homes, Golf & a Marina
On A Smartphone ?
Click on Photo to Enlarge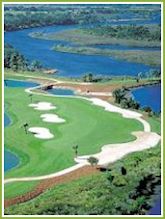 Waterlefe Golf & River Club, located in Bradenton, Florida along the Manatee River is a community of fine homes and an 18-hole championship golf course on over 630 acres of magnificent landscaping and amenities which blend into the natural waterside area.
The golf course winds through conservation areas and along the scenic Manatee River. While the golf course is a sight to behold, the River Club features fine dining, banquet facilities, a fitness room, swimming pool, tiki bar and The Pointe,a gathering area for residents to enjoy a picnic or stroll through conservation areas and along the Manatee River.
If you are a boating enthusiast, you should check out the 59 boat marina and private boat docks lining the Manatee River. Another 14 congregate docks are convenient for those who prefer to keep their boats at their home.
The real estate offerings in this community are diverse and unique. You'll find everything from 2 bedroom condos and maintenance-free villas to riverfront mansions. All this in a waterfront theme of stone and wood bridges intermixed in the neighborhood. Home prices in Waterlefe can begin in the mid to high $300's for a condo or town home and range up to over $2 million or more for the most elegant homes in The Shores gated enclave on the Manatee River.