The Oaks Club
in Osprey, Florida
On A Smartphone ?
Click on Photo to Enlarge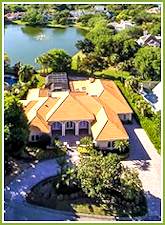 The Oaks subdivision in Osprey, Florida, just south of Sarasota, is a diverse community with multi-million dollar homes on the Intercoastal Waterway.
Residents may join The Oaks Club which offers a championship golf course, Har-Tru tennis courts, over-sized pool, and croquet and a spectacular clubhouse. The Oaks is undoubtedly one of the most exclusive golf communities in the Sarasota real estate market.
The Oaks Club community includes 1,000 acres on both sides of the Tamiami Trail. There are 3 distinct neighborhoods in The Oaks Club including Oaks Bayside, Oaks Clubside and The Preserve.
Oaks Clubside is home to club amenities. Beautifully manicured grounds and abundant flowers surround a stunning 41,000 sq.ft. Georgian Clubhouse completely renovated in 2006. A collection of art and furniture grace the interior of the clubhouse. Fine dining awaits in the Glen Room, while the Tavern & Grille Room has a casual atmosphere.
The Oaks Club offers a variety of luxury home options, including waterfront estates, high-rise luxury condominiums, sophisticated town homes, golf course homes, and maintenance-free villas in 3 distinct neighborhoods.
Oaks Bayside features palatial estates with deep-water boat access and sweeping views of Little Sarasota Bay.
Oaks Clubside is home to the fabulous Georgian style Clubhouse. Oaks Clubside boasts dramatic estate homes each specifically designed for its natural Florida settings.
Oaks Preserve is a unique community of predominantly maintenance-free single-family homes, villas and condominiums with spectacular Gulf views. The Meridian at Oaks Preserve condos includes 4 ten story and 2 eight story towers. There are penthouse suites and condos ranging from 2,000 to 4,000 sq.ft. The Meridian complex has its own pool, fitness center and barbecue area.