Welcome to Bradenton's Waterfront Communities
On A Smartphone ?
Click on Photo to Enlarge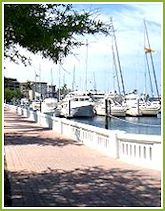 In Bradenton Florida you'll find a waterfront community with natural beauty and serenity. Bradenton is one of very few Florida communities that offers not one or two, but three waterfront choices; homes right on the Gulf of Mexico, homes of Sarasota Bay and homes along the Manatee River.
Bradenton area beaches are a favorite place for many to lounge in the sun on a quiet beach shaded by Australian pines or go fishing off an ages-old pier. With a constant flow of boating, sailing and fishing events coupled year-round great weather rank Bradenton Florida among the nation's most livable communities. And, much of that acclaim is because of beautiful daytime and sunset views available in Bradenton waterfront communities and neighborhoods.
Bradenton is located south of Tampa Bay bordered by the Manatee River and just north of Sarasota and surrounded by both salt and fresh waterways. The city of Bradenton, itself, is located on the mainland and is separated from the outer barrier islands of Anna Maria Island and Longboat Key by the Intercoastal Waterway. As the largest city in Manatee County with a population of approximately 54,000, Bradenton is a fabulous waterfront community where you and your family can have fun in the sun, enjoy all types of water and boat adventures and yet have world-class golf courses just a few minutes drive away.
Whether you prefer the ultra casual lifestyle of an Anna Maria Island community like Bradenton Beach or Holmes Beach with both beaches and fishing dock or the more luxurious lifestyle of a community like Hawk's Harbor, you'll find what you are looking for here in Bradenton.
Bradenton's public schools, part of the Manatee County School District, serve over 42,000 students. There are also private schools of various affiliations. Nearly 80% of bradenton teachers have post-bachelor degree training. The University of South Florida maintains a Sarasota-Manatee branch which serves college students in the area. New College of Florida, the state's honors college, is located on the border between Bradenton and Sarasota. International Theological Seminary is headquartered in Bradenton.
Take advantage of my experience and expertise on Bradenton Florida waterfront real estate to find your perfect seasonal or year-round property.