Osprey, Florida
For Golfers & Boaters Alike - Just South of Sarasota
On A Smartphone ?
Click on Photo to Enlarge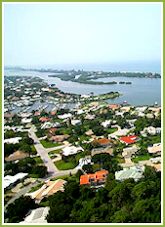 Osprey, Florida is located in Sarasota County Florida just south of Sarasota in what's referred to as "unincorporated" Sarasota County. Osprey is a diverse community with multi-million dollar homes on the Intercoastal Waterway with more modest homes up the road. Many new luxury and upscale home developments are underway in Osprey.
In Osprey, you can tour historic Spanish Point where you'll find original homesteads that depict early pioneer life in the area. You'll see how oranges were packaged in the mid 1800s.
Oscar Scherer State Park, in addition to being a nature preserve where several thousand species call home, offers many recreational activities. Bald eagles, bobcats, river otters and alligators can all be seen in the park.
For shopping, there are several areas including the Osprey Village shops, Blackburn Point Plaza and Southbay Fashion Center. Many restaurants can be found in Osprey offering fresh mahi-mahi, grouper sandwiches, pizza and fine dining.
There is a home or condo among the Osprey Florida real estate offerings that is just right for you.
If you would like to know more about Osprey Florida real estate, its golf courses, beaches, shopping and dining amenities, I'd be more than happy to show you around Osprey Florida