The Lido Key Waterfront Lifestyle
A European-styled Island of Elegant Homes & Condos
On A Smartphone ?
Click on Photo to Enlarge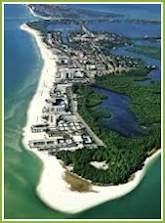 Lido Key is a European-style island of elegant homes and luxury condos, separated from the Sarasota mainland by St. Armands Circle and from Longboat Key by a bridge. There are wonderful homes and condos, shops, restaurants and beaches on Lido Key. All Lido Key homes & condos are very short walks from the beach.
North Lido Beach is a pristine half-mile long beach perfect for beach-walking. The park is a frequent stop for those wishing to do a little sun-bathing au naturale. But beware - there are no lifeguards and the currents are swift.
Lido Beach amenities include nearly 100 acres of Australian pines, picnic areas, rest rooms, concessions, gift shop and playground equipment.
South Lido Park and Beach is at the southern tip of Lido Key, bordered by four bodies of water; The Gulf of Mexico, Big Pass, Sarasota Bay, and Brushy Bayou. The southern beach portion offers views of the downtown Sarasota skyline and the Gulf.
Property prices on Lido Key vary widely from rather modest homes to multi-million dollar executive condominium residences.