Le Chateau
in Downtown Sarasota Waterfront Condos
On A Smartphone ?
Click on Photo to Enlarge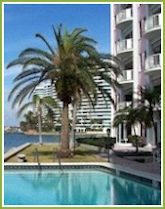 Le Chateau, built in 1971, is located directly on Sarasota Bay, next to the Ritz Carlton and across from Golden Gate Point.
Residents of the uniquely pink-hued Le Chateau condominiums enjoy unobstructed views of Sarasota Bay all day, enchanting sunsets, and night views of the lights of Lido Key and Ringling Causeway. And, imagine then walking out directly onto your private beach.
At Le Chateau, you can walk out the door to your own private beach. Pets are not allowed and there is also a pretty strict rental policy. Because of these limitations, the 27 units at Le Chateau are used either as primary residences or as a vacation home here in downtown Sarasota. You cannot go wrong with the surreal beauty of Le Chateau.
Le Chateau units range in size from about 800 sq.ft. to 2,500 sq.ft with prices that can range from the high $400's to the $800's depending on size and amenities.