Southbay Yacht and Racquet Club
in Osprey, Florida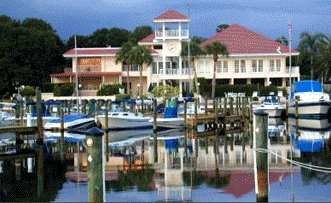 Southbay is an established community on the West side of US 41 directly on Little Sarasota Bay in Osprey mid-way between Sarasota & Venice.
Some homes have expansive bay views. Waterfront homes are priced in the $1.5 and up range. Many of the 350 homes in Southbay are on the Intercoastal Waterway, the marina, or on park-like greenbelts. Southbay owns and operates, for residents only, one of the largest community-owned deep water marinas on Florida's west coast with 172 slips that can accommodate yachts up to 55 feet. Slip rentals are among the most affordable in Florida.
Non-waterfront homes range from $450,000 to $900,000, depending on location within the community. Many of these home were built in the 70's and 80's and need renovation. Others have already been updated.
There is also a beautiful clubhouse, a heated community pool and 5 miles of walking trails.
If you'd like to know more about Southbay Yacht and Racquet Club or Osprey Florida real estate, golf courses, beaches, shopping and dining amenities, I'd be happy to show you around Osprey.