Condo on the Bay
Sarasota Luxury Condos & Townhomes
On A Smartphone ?
Click on Photo to Enlarge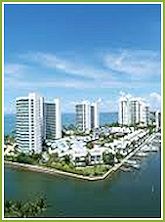 Located at 888 and 988 Boulevard of the Arts, Condo on the Bay offers residents luxurious living, outstanding views and well-appointed and feature-rich spacious floor plans, modern conveniences and delightful amenities, including two resort-style pools, tennis courts, exercise rooms, a concierge in each of the two towers sitting behind security gates.
If you live and breathe the Arts but also enjoy relaxed evenings watching the sun set over the Gulf of Mexico sunsets, Condo on the Bay is "the place to live."
Condo on the Bay is both downtown Sarasota condo living and waterfront living at its best providing not only a great location with breathtaking views, but also a wide array of amenities including the availability of guest suites.
Built originally in 1982, the 272 condo units in 2 towers consist mainly of 2 and 3 bedroom units with a few larger units. The townhomes facing the marina are configured with 3 and 4 bedrooms. Prices at Condo On The Bay range from the $500's to nearly $2 million for the largest units with the best views.