Sarabande
Downtown Sarasota Luxury Condominiums
On A Smartphone ?
Click on Photo to Enlarge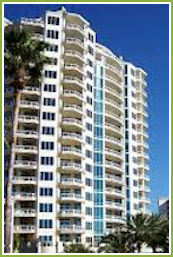 Sarabande luxury condominiums, built in 1998 -1999, and located at 340 Palm Avenue have outstanding waterfront views of Sarasota Bay over Marina Jacks, Island Park, Bird key and Lido Key. An exclusive property with only 57 spacious residences on 18 floors. Residence sizes start at just under 1,800 square feet and sell in the $1.3 to 2.5 million range while larger 3 bedroom 3 bath units with 3,300+ square feet may sell in the $2.2 to $3.5 million dollar range. Other units range up to 5,500 square feet.
Amenities available to Sarabande residents include private elevators, a heated swimming pool, a spa with a hot tub and sauna, a state-of-the-art yoga and fitness facility, billiards and media entertainment rooms and a wine storage room. A 24-hour security staff ensures your privacy and security of the condominium complex and its secure parking.
Most of Sarasota's nicest amenities are within walking distance. Sarabande residents can comfortably stroll to dine, shop or mingle on Main Street. A few blocks away are the Burns Court Cinemas and the Florida Studio Theatre. If they have a yacht they can berth it at Marina Jack's just across the street. For those looking at this point for just seasonal use, units can be leased up to twice a year for a minimum term of 3 months.
With extraordinary views, spacious open floor plans, large terraces, high ceilings, newer construction, fabulous amenities and convenient location, Sarabande luxury condominium residences qualify as your private bit of Paradise here in warm and friendly Sarasota Florida.
If you'd like to know more about the Sarabande luxury condominium residences in downtown Sarasota, Florida, I'd be delighted to show them to you at your convenience.