San Marco Luxury Condos
Reasonably Priced - Close to Downtown Sarasota
On A Smartphone ?
Click on Photo to Enlarge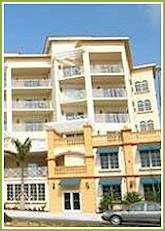 The San Marco, at 1188 N. Tamiami Trail, consists of just twenty-three 3 and 4 bedroom reasonably-priced, yet spacious residences with large terraces, covered, dedicated parking spaces, a fitness center with sauna, heated pool and spa, and plaza decks with umbrellas all at a convenient location. For the pet lover, the complex is pet-friendly; unit owners, but not renters, may have up to two pets, up to 40 pounds with some restrictions on breeds.
Built in 2006 as one of the newer residential developments in Sarasota's art district, the building's exterior reflects its architectural namesake, the Piazza San Marco in Venice, Italy with the graceful arches and balustrades of its terraces and its interior walkways lined with plant boxes of shrubs and greenery.
San Marco's limited size means that its residents tend to know each other and enjoy each other's company. And, for convenient shopping, the 1st floor of the complex houses retail establishments of various types including a hair stylist.
San Marco is not exactly "right in the heart of downtown Sarasota," but then again, it's not far from it either. If you are fit and enjoy walking, you could definitely walk to the shopping, dining, entertainment and cultural venues in the heart of downtown, but San Marco residents are more likely to get to those destinations by a short automobile or taxi ride.
San Marco units range from about 1,840 to over 3,850 square feet and sell from the mid to high $400,000 to the $500,000's. The largest units, when available, can sell for up to the mid $600,000's.
San Marco condos are rarely for sale given their appealing amenities, reasonable prices and convenient location but occasionally one does come on the market.
A residence at the San Marco might be a great fit for you if you would like a lot of space for the money, newer construction and still be "close to downtown Sarasota."