Manatee Memorial Hospital
In Bradenton, Serving Manatee County, Florida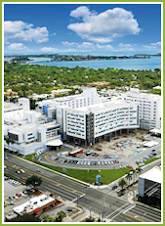 Manatee Memorial has served the Manatee County community for over 57 years. The 319-bed acute care facility, owned and operated by a subsidiary of Universal Health Services, Inc., is one of the largest and respected hospital management companies in the United States.
Patients have access to over 400 physicians* on staff, in addition to associates and consultants, with a broad range of specialties ranging from family medicine to vascular surgery. The hospital's highly skilled professionals include the nursing staff — one of its primary strengths — who are fully involved members of the patient care team.
Some of the most medically-advanced equipment available in Florida is utilized by the Manatee Memorial' staff of health care professionals.
Many hospitals offer cancer treatment but not as many balance a powerful treatment strategy with the right dose of patient sensitivity the way Manatee Memorial Hospital does. You have the security of knowing Manatee Memorial Hospital's cancer program has a long history of treating patients according to standards established by one of the most respected medical societies in the nation, the American College of Surgeons (ACOS). Receiving care from an ACOS Commission on Cancer-approved program means you can depend on exzcellent care. Since 1979, the multidisciplinary team of professionals at Manatee Memorial Hospital has been collaborating to find appropriate cancer treatments for patients. Manatee Memorial Hospital offers a wide range of leading-edge cancer technology, diagnostic equipment and treatment. But just as important is its history as the first hospital in Manatee County, Florida to establish dedicated oncology services.
The Breast Care Center at Manatee Memorial Hospital has earned the "Breast Center of Excellence" designation from the American College of Radiology (ACR). By awarding facilities the status of Breast Imaging Center of Excellence, the ACR recognizes breast imaging centers that have earned accreditation in mammography, stereotactic breast biopsy, and breast ultrasound (including ultrasound guided breast biopsy). Additionally the hospital has earned the ACR accreditation designation in Breast MRI.
The hospital offers a unique "Senior Advantage Program" designed to offer people age 50 or older an array of discounts and activities in the Sarasota - Bradenton community. Cost for a one-year membership is just $15.00 for individuals and $25.00 for couples, or a lifetime membership for $45.00 for a single membership or $70.00 per couple.