St Armands Circle
Eclectic Shopping & Dining Mecca
On A Smartphone ?
Click on Photo to Enlarge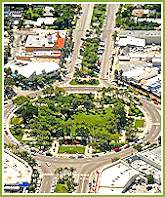 St. Armand's Circle was originally a dream that the Ringling family brought to reality; to make Sarasota Florida a world class shopping destination. The Circle consists of a main park in the middle. Today, the Ringling Circus heritage is honored with iron plaques around the walkways and portraying various famous circus characters. The park area, which is the center of the Circle, is also the location for classic car shows, art festivals, concerts and other frequent outdoors events.
But it's the shopping, the wonderful food and the atmosphere that makes the Circle so special.Art, boutiques, and dozens of pedestrian-friendly fine dining and casual restaurants are all to be found here. It's easy to spend hours wandering around St Armands Circle's eclectic shops and boutiques, or simply sitting at an outdoor cafe enjoying a refreshing beverage and doing a little people-watching. All around you, palm trees, tropical plantings and flowering bushes softly undulate as they are brushed by the warm breezes off the Gulf of Mexico waters.
I invite you to visit St Armands Circle here in sunny Sarasota Florida. Once you visit Sarasota Florida, I know you'll want to consider owning or Sarasota home or condo here either as a year-round home or seasonal get-a-way spot.
If you'd like to know more about St Armands Circle and Lido Key of which it is part, Contact Me for my informativearasota Florida Information Package or call me at 941.228.9682 for more information on the sunny Sarasota Florida lifestyle.