Marie Selby Botanical Gardens
A Very Special Sarasota Attraction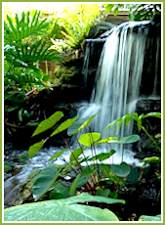 Marie Selby Botanical Gardens, nestled on 14 acres of beautiful landscaping and in 12 buildings in a esidential section of Sarasota, Florida, is a respected center for botanical research and education, as well as a famous showplace that delights more than 130,000 visitors each year. Visitors take away a better understanding and appreciation of the natural world and the challenge it faces.
Seven greenhouses are the heart of the botanical research and plant identification programs for which Selby Gardens is recognized around the world. The mission of Selby Gardens is to further the understanding and appreciation of plant life, with emphasis on epiphytes (plants that grow on other plants), while providing enjoyment for all who visit. Selby Gardens is perhaps best known for its living collection of more than 6,000 orchids, but it is also an established authority on other epiphytes including bromeliads, gesneriads, and other plants.
Marie Selby Botanical Gardens is an open-air and under-glass museum of thousands of colorful and exotics plants. Many of these plants have been collected from the wild on more than 200 scientific expeditions to tropical rain forests by Selby Gardens research staff.
For more info on Selby Gardens on the friendly, Sunny Sarasota Florida lifestyle, Contact Me. For a more immediate response call me at 941-228-9682 today.
I invite you to visit Selby Botanical Gardens in Sunny Sarasota Florida. Once you visit, you'll want to own real estate here; as a year-round or seasonal home or condo