Sarasota Memorial Hospital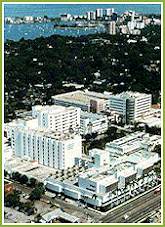 Sarasota Memorial Hospital (SMH), a community hospital founded in 1925 1700 South Tamiami Trail, ßarasota, is an 806-bed regional medical center whih stands among the largest public health systems in Florida. Sarasota Memorial Hospital has a staff of over 4,000 employees and doctors plus over 1,000 volunteers. SMH is one of the largest employers in Sarasota County.
Sarasota Memorial is a full-service health system, with specialized expertise in heart, vascular, cancer, and neuroscience services, as well as an extensive network of outpatient centers, long-term care and rehabilitation services among its many programs. Sarasota Memorial Hospital is the only hospital licensed to provide obstetrical services, pediatrics and Level III neonatal intensive care in Sarasota County, Florida
All hospital patients are different, so why should MRIs be "one-size-fits all" ? That is why Sarasota Memorial now offers our new 3T MAGNETOM Skyra MRI which offers the most comfort and the best diagnostics. The roomier 70 cm Open Bore design can help you feel more relaxed and the shorter magnet means more head-out exams. It also accommodates larger patients (up to 550lb).
When you come to Sarasota Memorial Hospital, yur physician will plan your care throughout your hospital stay and identify any care needs you may have after you leave the hospital. The hospital's Integrated Case Management Department is available to assist you in planning for your needs after you leave the hospital. There are health care team members to help you arrange for a variety of services from home health care, skilled nursing or extended care placement to medical equipment.
Sarasota Memorial is the only hospital in southwestern Florida named in the "Nation's top 1% of Hospitals" for consistent clinical excellence, earning a coveted spot on HealthGrades' list of ""America''s 50 Best Hospitals.""
Sarasota Memorial also offers HealthFit which includes the amenities and services of an upscale health club combined with the knowledge and expertise of one of the nation's top hospitals.