What "Money Magazine" said
About "Sunny Sarasota"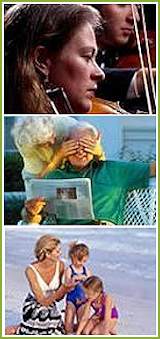 Sarasota may be the ultimate beach town, with its 35 miles of sun-kissed beaches on the Gulf of Mexico, more than 200 sunny days a year and an average year-round temperature of 71°F. Yet there are plenty of other reasons why we named it the best small city.
Sarasota County, which includes Venice, Northport, Longboat, Lido, Bird and Siesta Keys as well as mainland Sarasota, has its own symphony, ballet and opera companies. The 1,800-seat Van Wezel Performing Arts Center lures productions from places like Broadway, Toronto and even London. The Ringling Museum of Art, established by circus baron John Ringling who settled with his wife Mabel in the area in the 1920s, has an extensive collection of American and European art.
Like sports? Just less than an hour away, there's the NFL Tampa Bay Buccaneers, arena football's Storm and the NHL Lightning hockey team.
Sarasota also offers a triple treat: The lifestyle is very affordable. The schools are outstanding, and the job market is brisk. Sarasota County's public school students in key grades outscored 95% of their peers in the state. And perhaps most of all, the city posted job growth of 5 percent in the past year, ranking it among the top 25 metro areas in the country.
During the next decade, Sarasota is expected to see a 30.5 percent increase in jobs, putting it at No. 7 in the U.S. Many of those jobs are in the retail and service sectors -- Sarasota is a thriving tourist destination, but there are also other industries.
Sarasota is so desirable that communications executive Nicholas Branica commutes to his job in Charlottesville, Va. rather than uproot his wife Tonie and his two daughters, Christina, 11, and Nichole, 8. Branica settled in a six-bedroom beach house in Siesta Key when he took over Sarasota-based Key Voice Technologies, a telecommunications firm. When Branca became CEO of another telecom firm, Charlottesville-based Comdial, he never thought of leaving Sarasota. You can jump in your boat and drive around the keys to fish or watch dolphins; we can watch manatees at the beach," says Branica, 47. "You couldn't get us out of here with a nuclear explosion."
Copyright Money Magazine